You've probably heard a lot about how important it is to get enough omega-3 fatty acids in your diet. But how can you get enough omega-3 if you you have a fish allergy? Whether you are allergic to fish, are vegan, or just don't like fish, you'll be happy to know there are other ways to ensure you get enough of this important nutrient.
*Disclosure: This post contains affiliate links. We may be paid a commission if you use these links to make a purchase. As an Amazon Associate we earn from qualifying purchases.
What is omega-3?
Omega-3 is a group of important polyunsaturated fats, including:
Docosahexaenoic Acid (DHA), a long-chain fatty acid mostly found in oily fish:
Eicosapentaeonic Acid (EPA), a long chain fatty acid mostly found in oily fish; and
Alpha-Linolenic Acid (ALA), a short chain fatty acid, found in some plants and seed oils.
Our bodies can't produce omega-3 fats, so these need to come from the food we eat. While ALA is found in some foods, it needs to be converted by the body into DHA and EPA.
Why is omega-3 important?
Omega-3 fatty acids are important for health and preventing disease. Regularly consuming DHA and EPA has been associated with lower risk of heart disease and stroke.1 If you are pregnant, having enough omega-3 fatty acid is also important to help reduce the risk of preterm birth.2
Health organizations like the Australian Heart Foundation recommend that healthy adults include at least 250–500 mg of DHA and EPA in their diet each day. It recommends eating 2-3 serves of fatty fish a week to reach this target, plus some (1g) of plant based ALA every day.1
Sources of omega-3 other than fish
Fatty fish is the best source of the essential omega-3 fatty acids, DHA and EPA. Good fish sources of omega-3's include mackerel, salmon, herring, sardines, anchovies and even oysters.
If you can't eat fish, due to a fish allergy or because you are vegan or for another reason, you can get omega-3 from other types of foods. Plant-based sources of omega-3 include:
walnuts;
flaxseed (linseed);
chia seed;
oils such as canola and soybean.1
However, these nuts and seeds contain ALA rather than DHA and EPA.
What about omega-3 supplements?
Sometimes you may not be able to get enough omega-3 from the foods that you eat. For people with multiple food allergies who may be allergic to not only fish but also nuts, seeds or soy, it can be particularly hard to get enough omega-3 from foods. If you are concerned that you are not getting enough omega-3, speak to your doctor or dietician.
If you are pregnant, you might have your omega-3 levels tested as part of a screening test. In South Australia, researchers have discovered a link between lower levels of omega-3 levels and an increased risk of your baby being born early. There is now a screening test to determine if you might need to take an omega-3 supplement during your pregnancy3. Speak to your doctor, midwife or obstetrician if this might apply to you.
Most omega-3 supplements are made with fish oil. So what can you do if your health practitioner recommends an omega-3 supplement, but you are allergic to fish?
It's important to seek medical advice before taking fish oil if you are allergic to fish. The Australian Society of Clinical Immunology and Allergy says that fish oil tablets or supplements are usually highly purified, which means that they are considered low risk for people with fish allergy.2 However your own allergist will be able to advise you if you need to avoid fish oil supplements.
Vegan and plant based omega-3 supplements
If you cannot have fish oil tablets due to your fish allergy, or if you don't eat fish for other reasons, there are also fish-free and vegan omega 3 alternatives available.
These include plant based omega 3 supplements made from marine algae. Sapling's Vegan Omega-3 contains 300mg of DHA and 150mg of EPA in each serve.
iHerb also has a large range of vegan omega-3 supplements that are algal based. Sports Research Vegan Omega 3 is gluten free and does not contain any top allergens. The soft gels are made with non-GMO modified tapioca starch, vegetable glycerin and purified water and also contain sunflower seed oil, rosemary extract, tocopherols, ascorbyl palmitate (Vitamin C).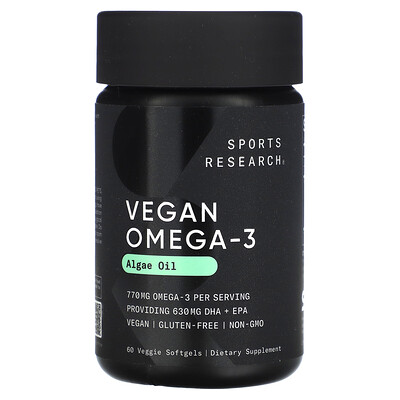 Flaxseed oil is another supplement containing Omega-32, but as ALA. Vitamatic's Flaxseed Oil capsules are popular. However, because the body needs to convert ALA into DHA and EPA, you won't be getting as much Omega-3 benefit from flaxseed oil as from fish or algal supplements.
References and more information
For more information about fish allergy and omega-3, see the following references we've referred to in this post:
If you are allergic to fish, you'll love our allergy friendly recipes which are all fish free. This includes our allergy-friendly olive tapenade, made without anchovies.
And don't forget to subscribe for more practical allergy tips.
*Disclaimer: Allergy Spot does not provide medical advice. You should always consult a suitably qualified medical practitioner in respect of your own medical conditions, symptoms or concerns. See our Website Terms for more details.