If you or your child have serious food allergies, you know how important it is to take every opportunity to reduce risk. Allergy stickers and labels are a great way to do this by alerting others to your allergies. You can choose from pre-printed general allergy alerts or personalised allergy stickers with your name and specific allergies. There are a host of different ways to use them too.
*Disclosure: This post contains affiliate links. We may be paid a commission if you use these links to make a purchase. As an Amazon Associate we earn from qualifying purchases.
Different ways to use allergy stickers and labels
Allergy stickers aren't just for day care and school. You can:
Place coloured stickers such as "gluten free" or "contains nuts" on food items in your pantry or fridge at home to help identify safe and unsafe foods;
Use stickers at work to label and identify your safe foods in the staff kitchen;
Use child friendly allergy stickers on your child's lunchbox for day care or school to remind others of their food allergies;
Stick a pre-printed allergy label on consent forms for excursions or RSVP's for functions and events to alert the host to any allergies; or
Use allergy labels when entertaining for a crowd to help people know which foods are safe for them to eat.
Here are some of our favourite stickers and labels for allergies to help manage food allergies at home and out and about.
Allergy alert stickers and labels
Etsy is the perfect place to find unique allergy alert stickers, labels and badges.
This great range of allergy alerts from FloxCreative can be made into stickers or badges. The bold red colour and food allergy icons convey allergies very clearly. Available for a range of common allergies, or you can customise – very handy for uncommon allergies!
These would be a great choice for older children and adults to use on food or medicine containers.
Allermates make a range of child friendly allergy alert stickers that are perfect for day care or primary school. These fun stickers are dishwasher safe, UV resistant and weatherproof. They are available in a number of cute designs including dairy allergy, nut allergy and wheat allergy/gluten free.
Personalized allergy stickers
We love these personalised name labels from Bright Star Kids.
When you first see the website you might think they are just standard name labels for school, but they are completely customisable. You can choose your colour, add your name (or other text), and choose from different icons including a number of different allergies. This is a design we created for nut allergy as an example.
The small size is perfect for small containers, but they also have large name labels. And they are microwave and dishwasher safe.
You don't just have to use them for day care or school either – we use them at home to label safe foods too.
StickyMonkeyLabels on Etsy have a fanatastic range of personalised or general allergy alert stickers and labels. For kids, these fun personalised labels with cute allergy characters are great for lunch boxes, drink bottles, food containers and medication carriers. Use them anywhere you need to alert people to your child's allergies.
Chose from a host of food allergies, asthma and even bee sting allergy. The stickers are waterproof, dishwasher and microwave safe too.
Fridge and pantry labels for allergies
These personalised dry erase labels from Bright Star Kids can be customised with your name and choice of colour. And you can use these handy stickers for any message you like, including what food allergens are or are not inside. Put them on lunch boxes, food to go in the fridge or freezer or a dish you are taking to a friend's house. We love that these are so versatile.
4.5cm wide x 3.9cm high, waterproof and dishwasher friendly too.
If you have someone in the family with allergies or intolerances, but others in the home still eat foods containing those ingredients it, pantry stickers are a great idea. Using round ingredient stickers like these on pantry and fridge items that are gluten free can help quickly identify safe foods. They are also perfect for designating safe storage containers to avoid any cross contact.
The labels shown here are for identifying "gluten free" food, but the same company also makes labels identifying other allergens, like "contain nuts" or "dairy free".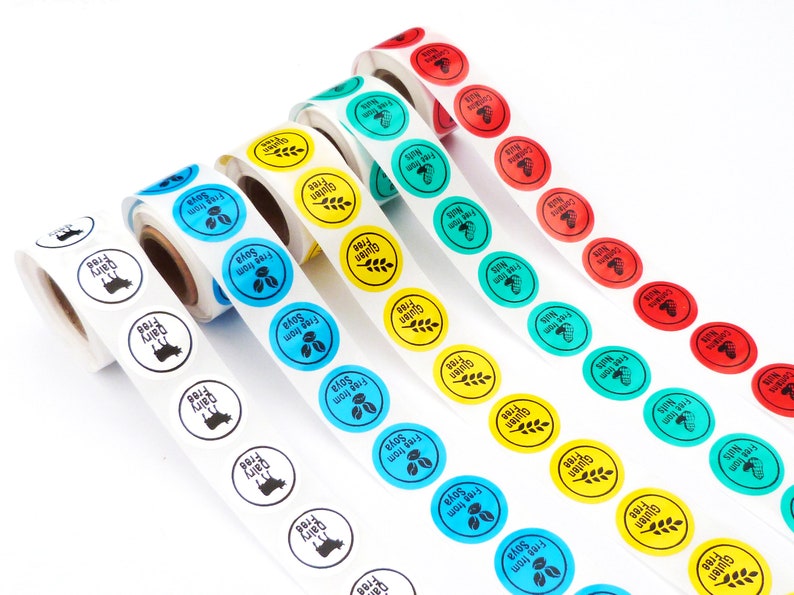 We can think of so many ways to use these round food allergy labels from CustomLabelDesign on Etsy. As one of the reviews suggested, using them at Christmas to label shared plates of food. They would work really well for class parties at school too. Or use them to identify safe and non-safe food items in your pantry at home.
More ways to alert others to your allergies
There are lots of other steps you take to stay safe and alert others to your allergies. Some of the ways to add another layer of allergy awareness include:
Using an EpiPen bag tag or key chain to let other people know where they can find your autoinjector in an emergency;
Wearing a medical alert ID to make first responders aware that you have a severe allergy;
Record your allergies and emergency contact on your smart phone (which can be accessed even when your phone is locked); and
Using the fantastic Allergy Pal app to record and easily share allergy and emergency first aid information.
For more allergy-friendly tips, don't forget to subscribe to our emails!